Take a regular paragliding pod harness,




add a motor




and nothing more!
From the very beginning we were strict about one thing: no compromises on the true paragliding pod harness feel.
We did not want to fine tune a paramotor to be more thermalling capable so we knew that we have to start with a regular pod harness in a first place and add motor. 
The first two versions were unable to take-off.
Third was unable to land.
Fourth and fifth did that right but the reclined position was unstable in the air. 
After 3 years, with the version 23 we finally got it right: the SCOUT pod harness with optional climb assist.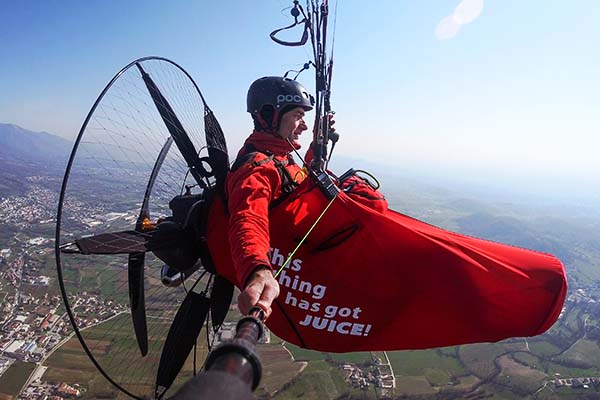 Paramotors are surely cool but the upright position, rigid frame on your back and the metal bars under your arms just don't feel right for thermalling.  There are some paramotors like this one, that have weight-shift authority comparable to regular paragliding pod harness but they still keep the upright position. 
There is a reason for this upright position as you need to keep the prop vertical. Some paramotors in order to adapt for thermalling get it half way: they recline the back=prop by 20 degrees which is kind of still acceptable for the propeller and kind of closer to what paragliding pilots seek. Exactly, a kind of solution. 
In the SCOUT paragliding pod harness the pilot is fully reclined 40 degrees just like a regular pod harness. No compromises.
The 40 degree angle between your back and the propeller is great for flying but impossible for take-off. Standing on the flat ground the prop would be pushing downwards.
Thus the only solution is variable geometry. Prop is parallel to your back on take-off and then it changes into 40 degrees angle when seated in. 
This transition is fully automatic. Just lean back and the engine with prop will adjust itself. No need to let the toggles off your hands, no need to pull any levers or push any buttons.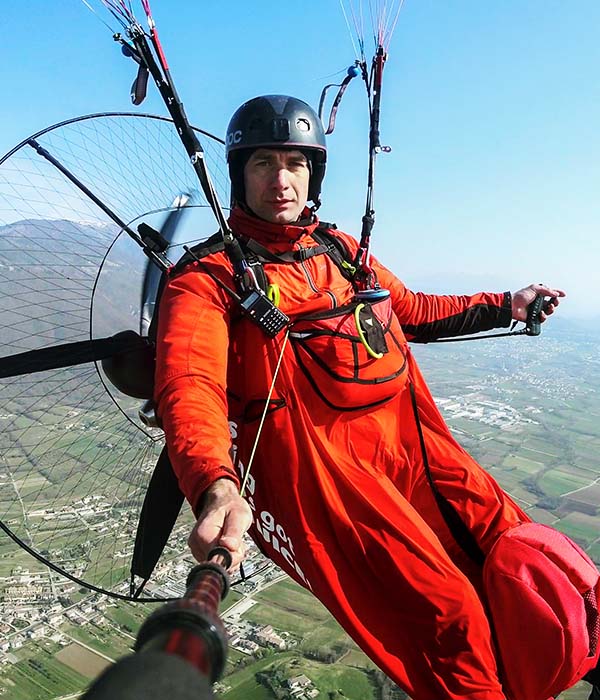 There are some pretty cool solutions that got it fully reclined and even fully automatic. The transition is done by servos, controlled by gyroscopes and powered from batteries. There is some serious engineering in these electric climb-assisted harnesses.  But they are heavier than paramotors, last only 20 minutes of flying or just 10 minutes of climbing and are crazy expensive. (We hope future development will bring us higher capacity at lower cost.)
Scout paragliding pod harness is all fully mechanic: no servos, controllers, no batteries. 
It was a complicated task for us: we had to add lots of pulleys, two-axis rotation, sliders, springs and stoppers… but none of it is your business. Just lean back and let the system do its job for you. 
The SCOUT pod harness is not a paramotor. 
It has no metal bars under your arms nor a big metal frame on your back. The harness is made of straps and fabric for uncompromised paragliding feel. 
Truth is no single strap is the same as on a regular pod harness. In fact the harness is a combination of a backpack, climbing harness and a paragliding harness. Again, none of it will you notice in flight.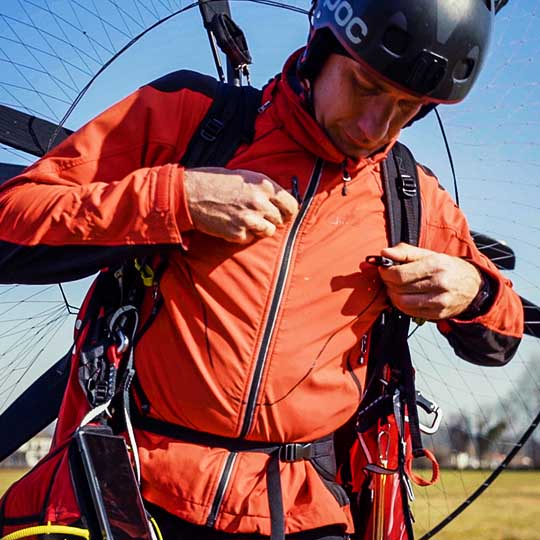 With or without climb assist
Remove the motor and install an aerodynamic tail for paragliding within minutes. It's basically 2 in 1 – classic paragliding harness and SCOUT pod harness with optional climb assist. 
SCOUT pod harness weight: 4.3 kg including foam protector
optional climb assist weight  + 14.7 kg (*)

Vittorazi Atom 80 engine, 15 HP, two stroke
125 cm propeller
fuel capacity 6 litres
fuel consumption level flight 2.5 l/hour = more than 2 hours of flight
time to climb 600 metres: 5 minutes  (climb rate 1.8 m/s for 90kg pilot @ Gin Carrera L

Harness sizes: 

The main harness will come in two sizes S/M and L/XL
The leg cover will come in four sizes S, M, L and XL
(*) weight may be subject to change during further optimization (lighter prop, titanium bolts, aluminium carabiners, weight reduction on the mechanism…)
front reserve container with flight deck
certified back foam protector
hook knife, pocket for radio
side pockets, under seat pocket, rear pocket
camel back for water
optional extra fuel capacity for extreme multi day adventures: +2 x 4 litres
When will it be available SCOUT Paragliding Pod Harness?
Serial production started already
It took us 3 years:
To made it fully functional.
We made it also comfortable,
and we have equipped the harness with lots of features.
Ofcourse, we made it look cool. 
The product came through more then a year of hard wear and tear test of the durability and reliability of the pod harness. 
The pod harness was officially introduced at the Coupe Icare exhibition in  September 2021.
For 2022 we have ordered production of 200 pieces. Even as the demand seems to be higher, we will not be able to produce more. Hopefully later we will be able to increase capacity. 
We are already taking pre-orders, so fill yours here!
Some sophisticated electric solutions on the market cost 12-15 thousand eur. Luckily, using a combustion engine helps us to keep the prices a lot lower than that.
Although it is not a paramotor the price might be similar as it contains the same things (harness, engine, prop, …) plus a ton research, development and engineering. 
SCOUT carbon paramotors are priced around 7-10 thousand eur including VAT. So that might be the range. 
Let us know and we will keep you updated so you can be one of the very first happy customers flying the SCOUT pod harness with optional climb assist.

Frequently asked questions