Probably only two paramotor pilots have flown there.
Ever.
Saudi Arabia - discover the most remote places.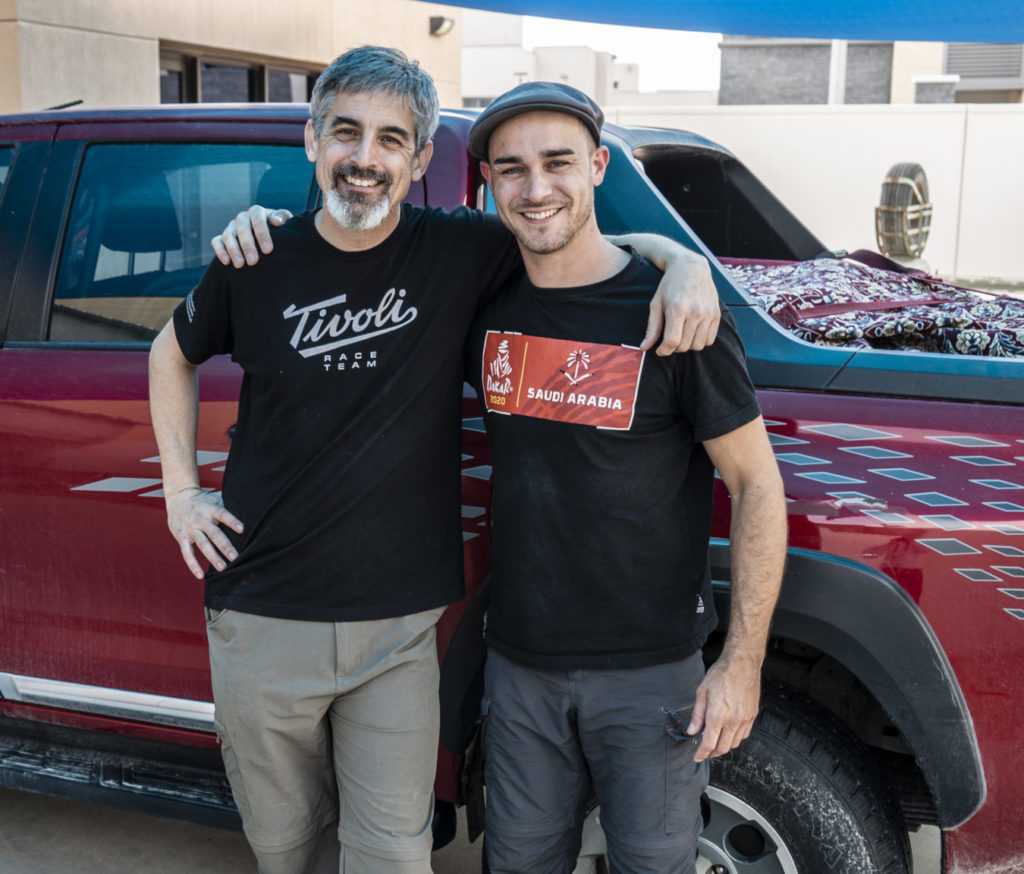 From 2020 – 2022 Shihab Alireza and Bastian Brüsecke pioneered the paramotor
adventure flying in Saudi Arabia for a unique photography- and film project about the
"Deserts of Arabia".
They spent months of research and planning before, then in several trips with different
vehicles, they explored the vast versatility of the Arabian deserts, driving miles and hours
in the sand, all over the country. We cannot even imagine how it feels to be one of the
first persons to ever fly those places. Respect!

Based on this knowledge we can offer you a really extraordinary trip.
Now it is your turn!
Volcanoes
Canyons
Winding rivers in steep valleys
Very remote
Very exotic
Very cold nights
… and this is where similarities with our legendary Iceland trips end. And yet the Saudi Arabia has a potential to be as legendary as our Iceland trip.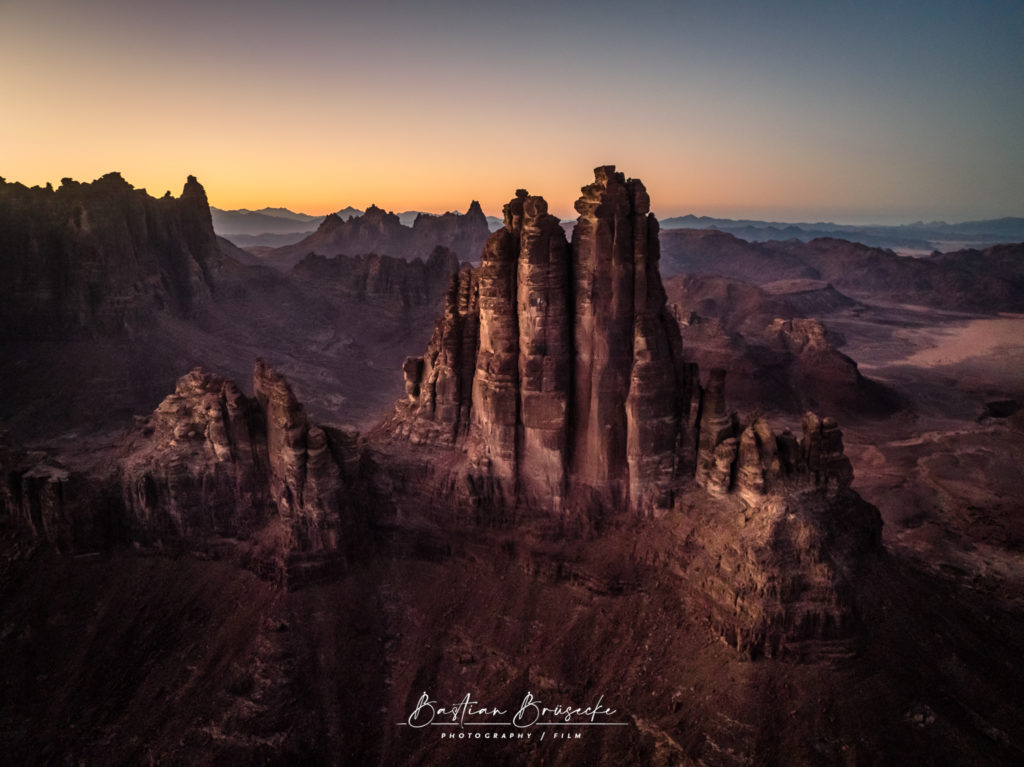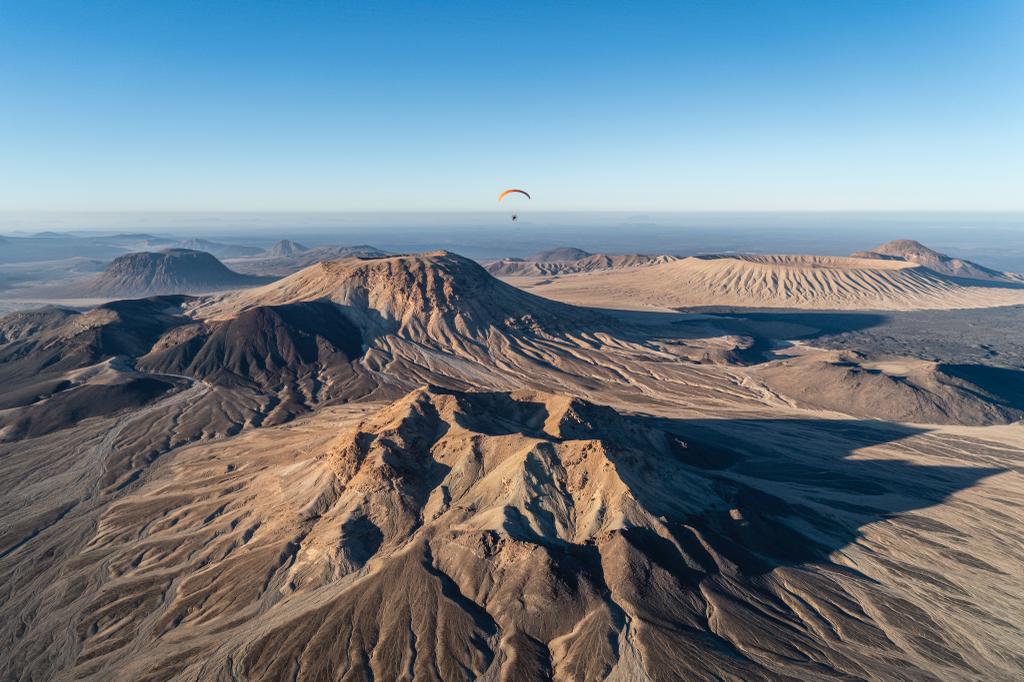 Even Saudi Arabia have the largest sand desert on earth, don't think Saudi Arabia are
just sand dunes. We are especially looking forward to fly over these volcanoes. It is like
flying on an alien planet. The vast distances make the difference. climb higher and you
will feel smaller than ever.
The Canyons are magical from up high and from inside too. We love proximity flying at sunrise. Flying so close to these monuments that you can almost touch them!
You know what is even better than flying these canyons? >>> Flying these canyons in a formation of gliders:-) There is something special about sharing such experience.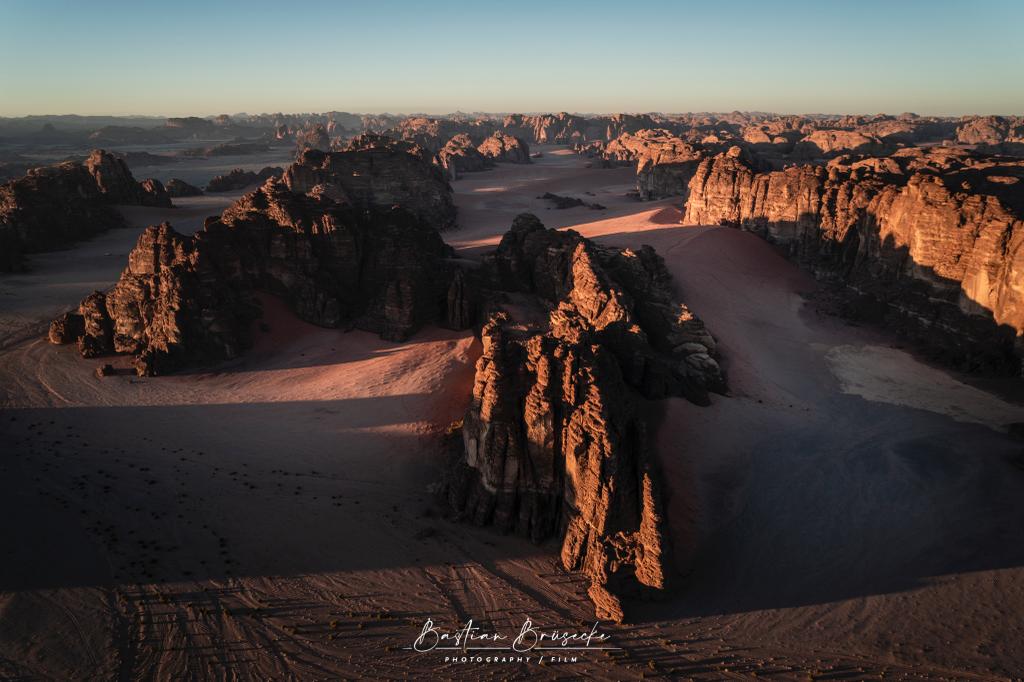 Instead of the usual SCOUT Van we will have two SUVs to ride in the desert.
We will go to truly remote places, because we are explorers. 
Smaller groups, more guides.
Usually we have groups of 8 = one guide and 7 participating pilots.
This time it will be different:
two guides driving the SUVs
+ 2 pilots in each car
= 6 gliders in the air
Smaller groups will allow us to provide more comfort during driving, more flexibility in planning and improvising, easier coordination and more safety in the unknown and remote terrain.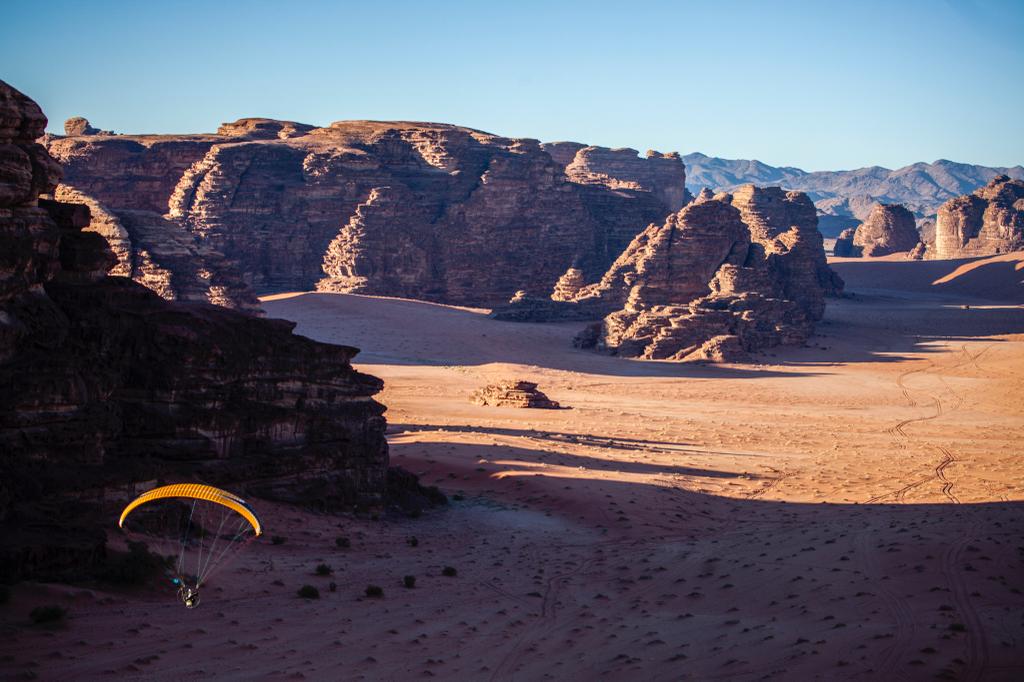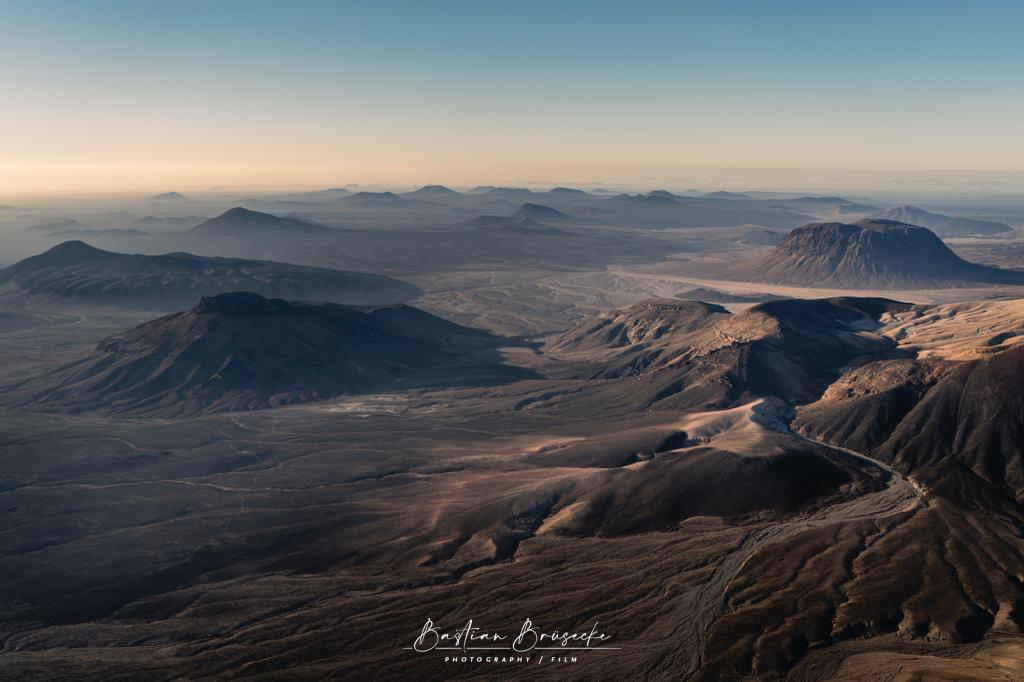 Satelite trackers for safety
We will fly remote places.
Really remote places with no cell reception. This is why all participants will get a satellite tracker device that will allow to communicate anywhere and call for emergency rescue anytime. 
Rescue and evacuation itself are not included. Have your insurance!
In order to maximize our paramotor experience we need to follow the weather. This means we cannot book accommodation weeks in advance, and we will improvise.
Luckily, we will be in very non-touristy places and accommodation in hotels or guesthouses will most likely be available.
Sometimes we will do camping. And you will love it, because there is no better place to sleep than a million stars hotel alone in the desert.
Be prepared for very cold nights and
flights!
We plan 4 groups in 2023 
---
Saudi Arabia 1 > January 25th to February 1st, 2023  2 seats available
Saudi Arabia 2 > February 4th to February 10th, 2023 – 1 seat available
Saudi Arabia 3 > February 13th to February 19th,  2023 – all sold
Saudi Arabia 4 > February 22nd to March 1st, 2023 – 1 seat available
We will pick you up at the Tabuk Airport on the first day at 12:00. If you arrive earlier, then enjoy the site and let us know which hotel you stay at. If possible, we will pick you up. 
The plan is to fly the first flight in the evening.
We will drop you off at the Tabuk airport on the last day at 12:00. Thus book your flight home to leave on the last day afternoon or later.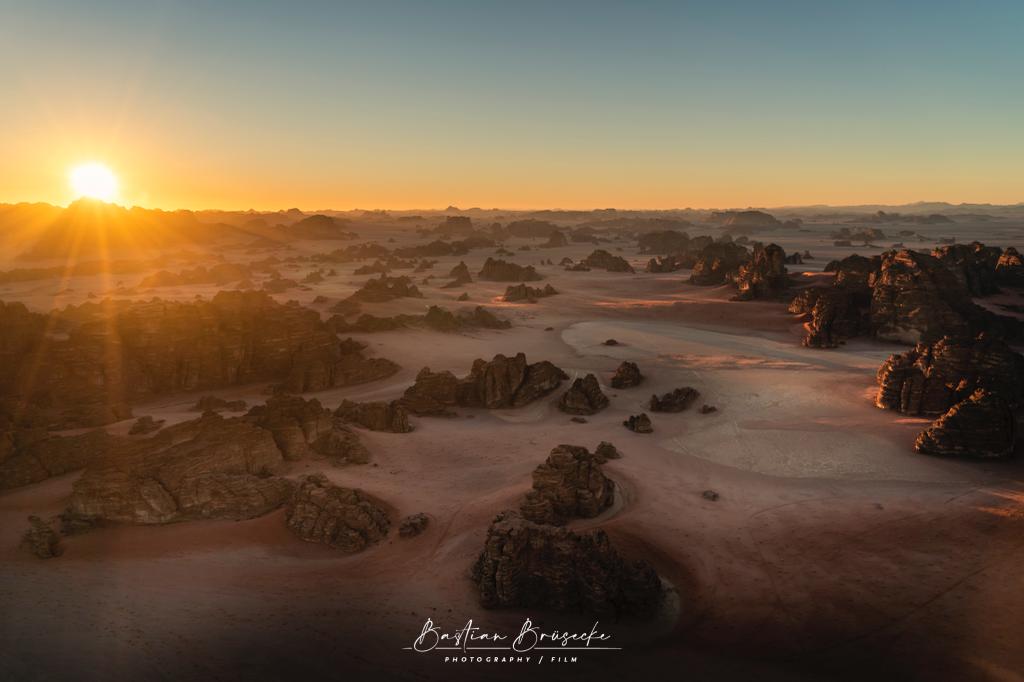 glider,
your reserve 
helmet (ideally with radio),
your flying instruments
warm clothes for flying, gloves
power bank
camera is a must
camping gear, if the adventure require it(consutlt before adventure)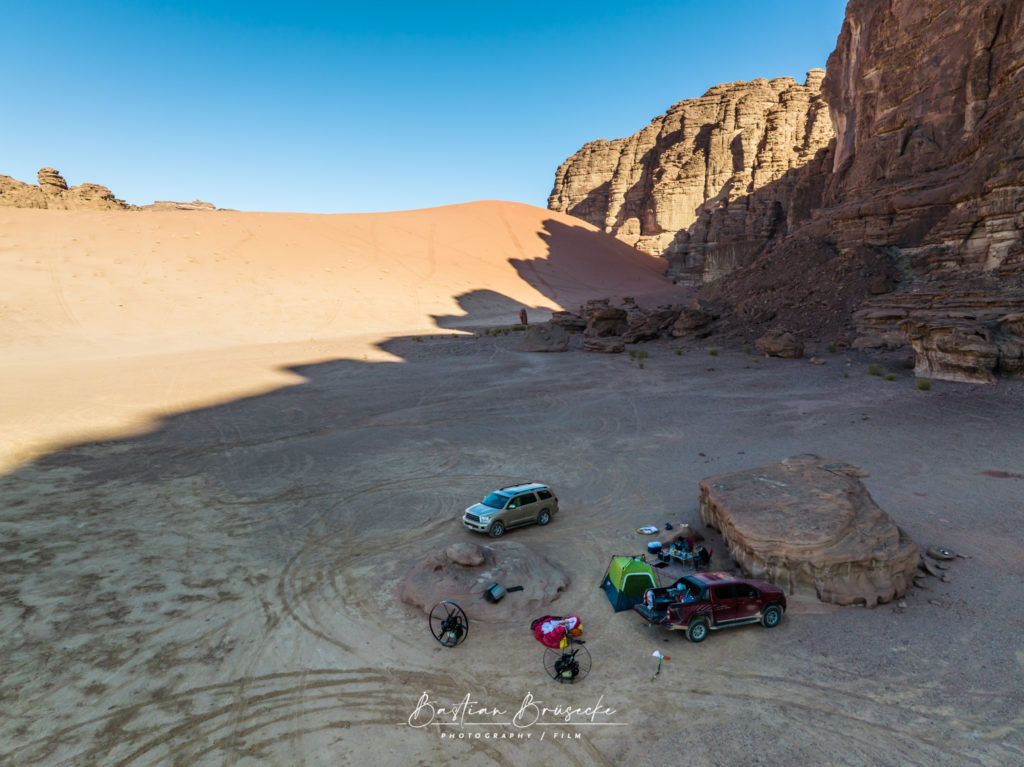 local knowledge
guidance 24/7
pre-flight and post-flight briefings
paramotor rental
transport for you and your paramotor during the trip
pickup in destination of arrival (always have to be consulted before)
accommodation, partially in guesthouses/hotels and partially camping
BBQ, stove and kitchenware for you to use
radio coms for the whole group to stay safe and have the most fun
friendly smile
cool photos and videos, best memories…
first two trips will be guided by Shihab Alireza and Miroslav Švec
Third and fourth trip will be guided by Shihab Alireza and Stefan Prisecaru
Shihab Alireza
Shihab'a local knowledge will make the Saudi Arabia paramotor adventure truly exceptional. He explored all the places by car, ATV, motorcycle and paramotor. 
Shihab is a pilot of almost everything from big jets to small search and rescue bush planes. He raced as a RedBull Air Race pilot, Honda motorcycle rally rider and he also won the Baha 1000 with his team. 
And now, he is passionate about paramotor flying but even more so about showing his homeland to other pilots.
Shihab speaks Arabic, English and German.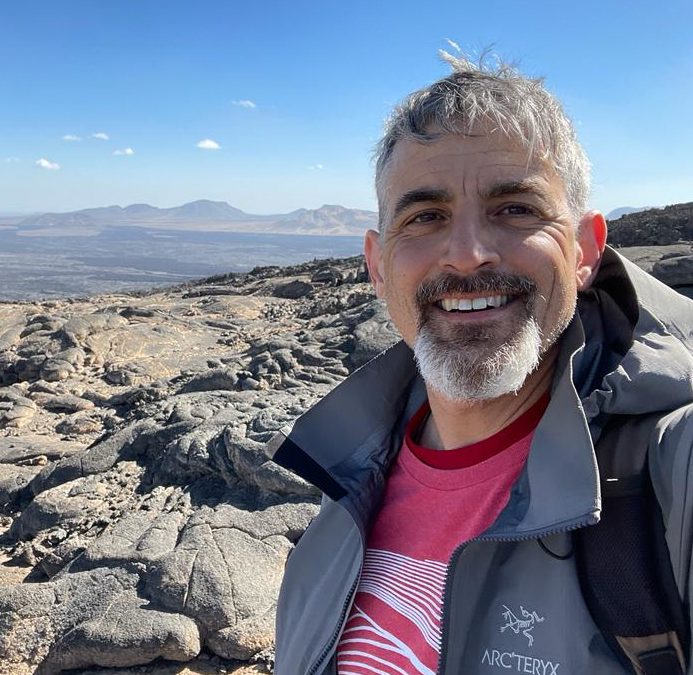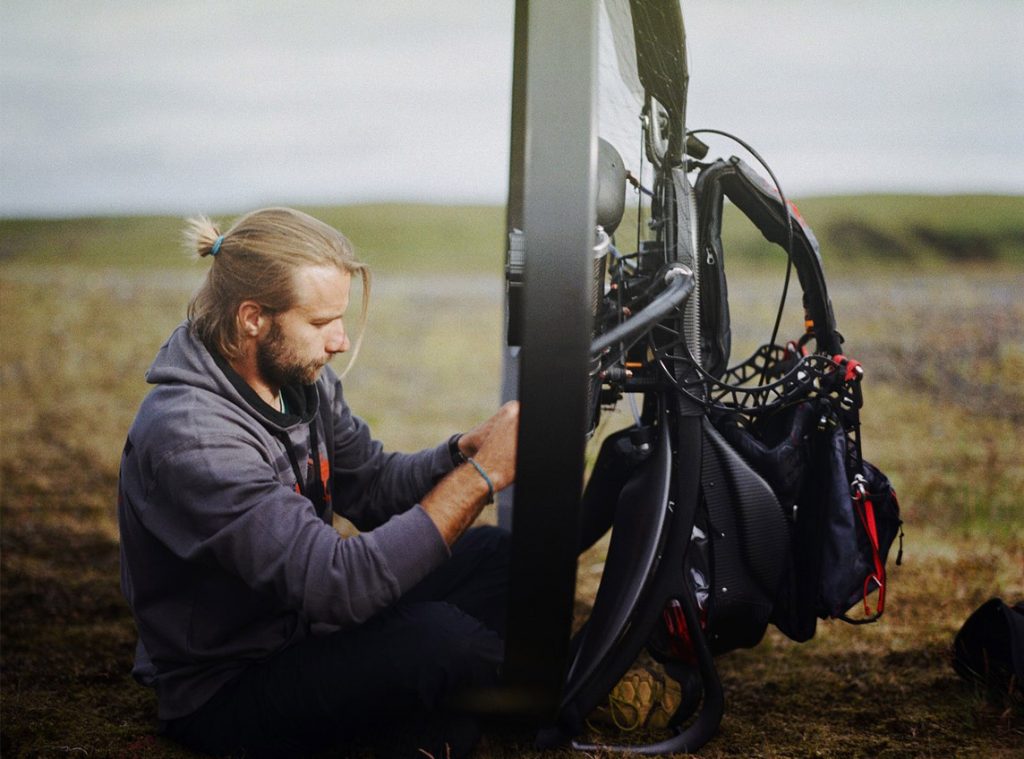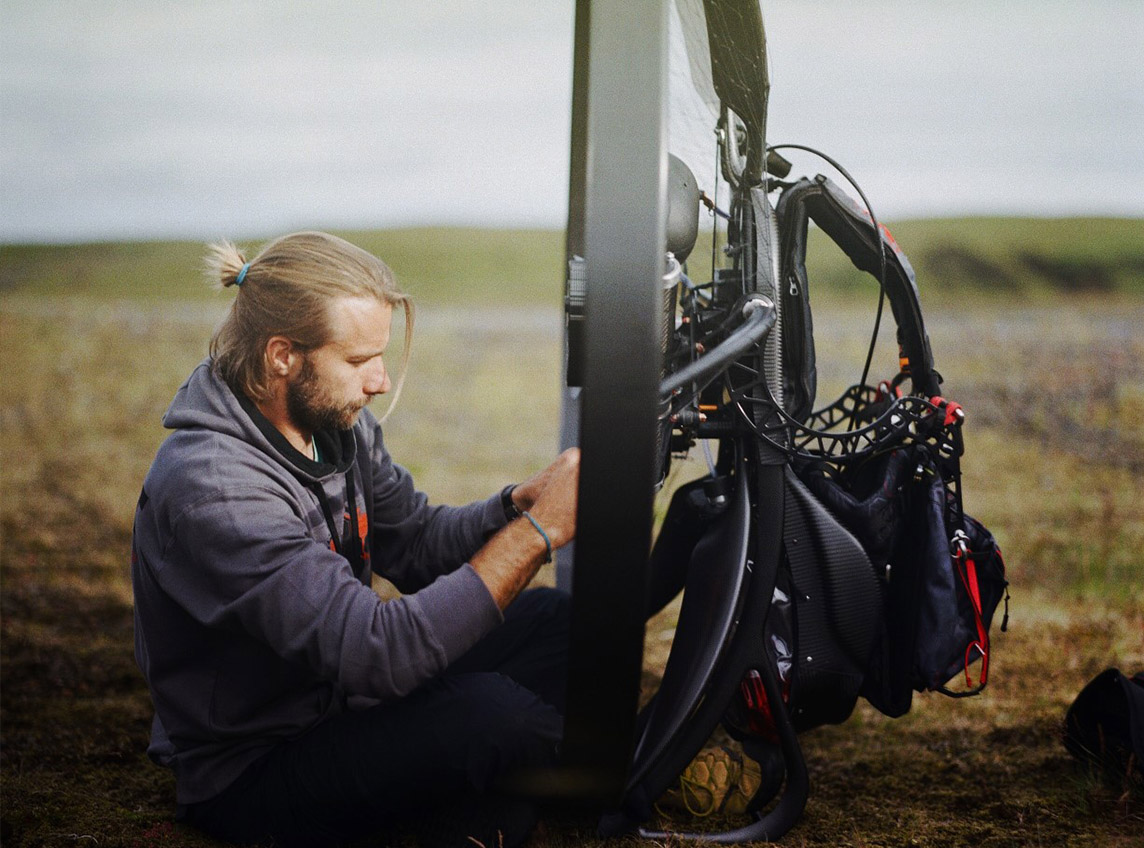 Miroslav Svec
The designer and the main brain behind the SCOUT. Miroslav has a lot of experience with adventure flying. In 2013 he strapped a sleeping bag to his paramotor and has flown +1000km around Slovakia.
In 2016 he won the Icarus Trophy Adventure Division flying more than 1900 km unsupported across the US.
Since then, he got addicted to paramotor adventure flying and guided 6 seasons in Iceland and numerous other trips in Slovakia, Italy, Romania, Italy, and Spain. 
In 2022 Miroslav organised the Wigman Challenge – a unsupported paramotor adventure crossing the most beautiful and challenging parts of Unites States.  
Miroslav speaks fluent German, English, Hungarian, Czech, of course Slovak and can ask for a beer in Spanish.
Stefan Prisecaru
Stefan is an experienced paramotor pilot and he guided several SCOUT paramotor adventures in Iceland, Romania, Italy, Slovakia and Spain. He is a great mechanic to keep the motors in perfect condition
Stefan speaks English, Romanian, he can understand a bit of Italian and he can fix anything in any language.
Costs of the Saudi Arabia paramotor adventure
3950 eur with paramotor rental
Yes, this is an exemptional adventure for multiple reasons:
smaller group than usual
two guides instead of the usual one
complicated and expensive logistics of rental paramotors
accommodation included
fuel for paramotors included
satellite trackers for your safety with subscription included